Since the success of the our replica Bell & Ross WW 1,we put more attention in copying the WW2 since 2012 Baselworld,  the coolest of the new crop of military instrument inspired watches from Bell & Ross is based on a World War II era stopwatch that was designed to be strapped to a bomb operator's leg. The rotating bezel, as well as pushers and crown were designed to be used with gloves while a specially trained crew member used careful timing to determine when to drop a bomb so that it would reach its target. Bell & Ross adopted the idea to create what I believe is their first ever regulator watch.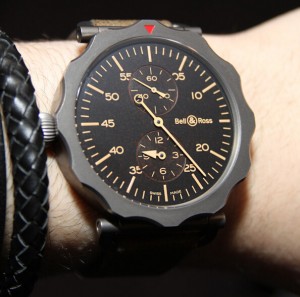 A first glance, our Bomber Regulator looks like a chronograph watch, but the single crown should easily remove that idea. Normally, a replica regulator watch has three dials in total (including two sub dials). Typically, the main dial is used for the minutes, while subdials are used for the hours and seconds. These watches are based on historic regulator clocks which were supposed to be highly accurate clocks people referenced in order to "regulate" other timepieces.
The dial is very legible and clear as per Bell & Ross aesthetic standards, but also has a unique aged look to it. Bell & Ross wanted the entire piece to look vintage, but also high quality. The dial is black with specs of red, that when mixed with the patina-style cream-colored markers and hands give an aged feel. Did you notice the red accent as part of the "0" indicator on the rotating bezel? The covert addition of red is a time-honored trick to making watches feel more sporty. The dial looks very cool and is complimented by the case and strap.
The replica Bomber Regulator is 49mm wide – but sits smaller on the wrist. The case is stainless steel which has been done in a sort of gun-metal PVD gray and sandblasted material. It really does look like a WWII tool. Bell & Ross is turning into an excellent movie prop department. The look is completed with the thick military brown calfskin leather strap.
The replica watch sits like a can on your wrist with lugs that turn down to wrap around your wrist. The onion-design crown is very well rendered and sits on the left of the case to prevent digging into your wrist.